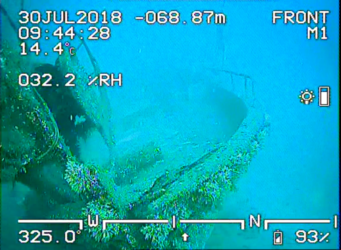 Even luxury yachts sink…In the end of July, fire set on a 19m yacht offshore Saint-Tropez and a few hours later the boat was laying at 80m depth. Subsea Tech was called out by the insurance company to search and inspect the wreck using a mini-ROV, especially to identify potential fuel leaks that could pollute the environment.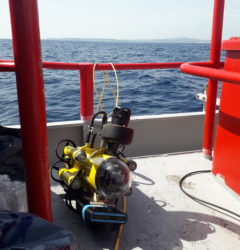 Even when last surface coordinates of the boat are known, our experience shows that finding a wreck at 80m depth may be a very tough operation, even in good visibility conditions, especially when working from a light boat with no anchoring possibility. To enhance search mission, Subsea Tech used a Guardian mini-ROV fitted with an Oculus M750d imaging sonar which offers a 120m forward range that allows identifying distant targets. A USBL SeaTrac beacon was also integrated on the Guardian to track ROV route and mark the wreck X,Y coordinates.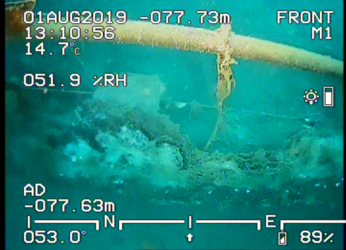 A first trial led us to another boat wreck which was quickly identified as the wrong one due to the level of corrosion and fouling on the structures.
During the second trial, the sonar showed a target at approximately 35m from the ROV. By getting closer, the target appeared to have a boat shape and the sonar software allowed measuring an approximate 18m length which was matching with the yacht dimensions.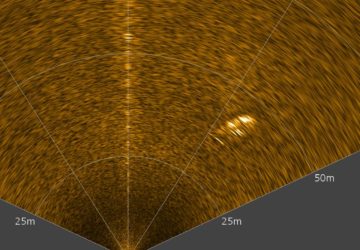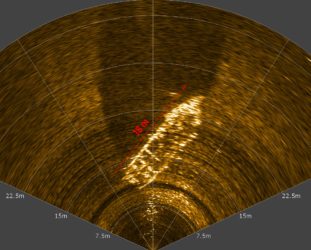 The pilot flew the ROV to the target using sonar approach and confirmed that it was the searched vessel, the hull being in very good condition with no fouling or marine growth on it. Fortunately, no apparent leak was identify during this mission.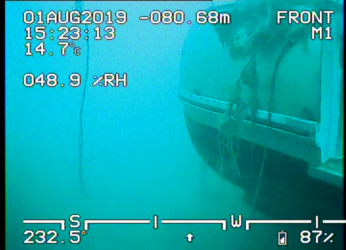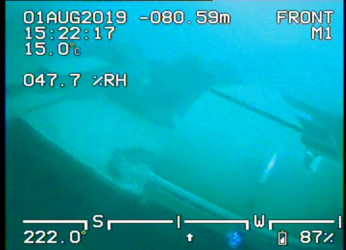 The USBL positioning system mounted on the ROV showed that the wreck was laying at approximately 145m north from the last surface position of the ship, which was very consitent in regards to the current direction and strength measured on site.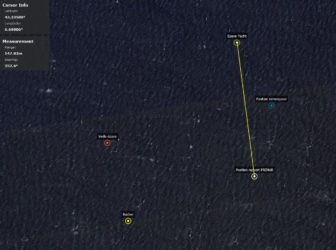 Another mission was handed over to Subsea Tech in August to inspect a wreck in Marseilles' bay, the main objective being to have a good overview of the wreck configuration in order to assess feasibility of refloating operations. The wreck was again found using 2D multibeam sonar mounted on Guardian Mini-ROV and inspection was carried out at around 70m depth.
Such missions clearly point out the benefits of using mini-ROVs instead of conventional means (divers) : deeper inspection limit (down to 500msw for Subsea Tech's ROVs), unlimited inspection time, no bottom time prior to surfacing, real-time video feedback at the surface, recording the whole mission video and parameters, possibility to reach confined areas unaccessible by divers, quick and easy spread, etc. Arguments that should convince many wreck hunters!